Explanation Paypal and Paypal Account How to Make Latest . When you want to plunge into an online business and make money online, you need the service to send and receive payments. Usually you can use a credit or debit card to make payments online but to receive payment, you need a service like PayPal. Because PayPal has become one of the oldest and largest service to send and receive payments online. Especially when you will receive payment from abroad, most people would ask if we have a paypal account. Since most of the advertising network (if you're a blogger) more method is to use PayPal transactions, so it's important for you to have a Paypal account.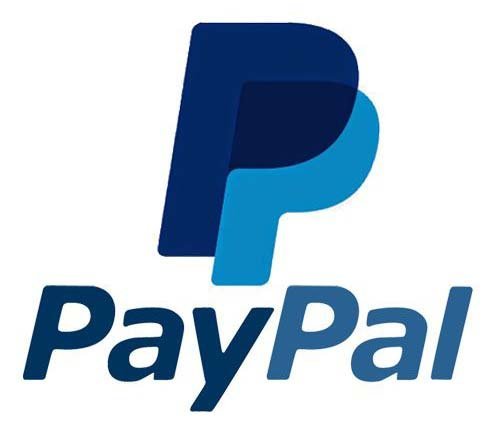 Besides being used to send and receive individual payments, PayPal also has a lot of support in various marketplaces like ebay, fiverr and a variety of international online shopping because PayPal is an online payment tool is the best time. Or if you have a PayPal it will be easy for you to hire the best hosting like bluehost , iPage or Hostgator easily and quickly.
I personally also as a user of paypal really feel that the service paypal, I use paypal to perform a wide range of needs such as making payments for the purchase of products such as rental hosting, buying a plug-in, receive payments from overseas clients and also withdraw funds from the account paypal to a local bank account.
What is PayPal?
PayPal is a service that allows you to pay, send money and receive payments quickly, securely and protected. Because PayPal using data encryption and anti-fraud technology to keep your information secure, reducing the risk of online fraud.
You can use your PayPal account to shop with millions of merchants and sellers worldwide wherever you see the PayPal logo.
PayPal is a virtual account that has a broader function than the local bank accounts because it can be used for online transaction in the various countries, is very different from a local bank account that can only be used for transactions within one country.
7 Advantages Got a PayPal account?
PayPal Account Creation Guide
Can receive and pay for online transactions easier and faster
Dollar disburse funds to a local bank account ( US Bank )
PayPal payment method most used around the World
Having a high level of security
PayPal store credit card information
PayPal is very flexible
Read: The Complete Guide How to Register and Make New Payoneer Account
How to Create or Register Paypal Account
If you've read and understand about PayPal at the top, now I will explain the steps that complete the accompanied drawings in a manner of manufacture or PayPal account signup. Before proceeding to the registration process, you may impose are aged over 18 years and have E-mail. Please create email first if you do not already have an email account. And this is a guide to create or register a personal PayPal account, if you want to create a business account PayPal account.
1. Please visit the PayPal website here , make sure you see the PayPal URL begins with https as follows https://www.paypal.com/ . And click on the " List " in the upper right corner next to the login button.
2. You will be exposed to the page as shown below after click the signup button on this first step, now select the " Getting Started " on the left under " Buy using PayPal ".
3. Please select the country in the dropdown menu and select Indonesia (example), in the column underneath enter your email address and password. Try using a password that is unique and unpredictable and more than 6 characters. And click " Continue ".
4. Enter your personal data truthfully in accordance with the ID card and the phone number that is currently active use. Do not forget to check the privacy policy and then click the button " Agree and Create Account ".
5. Enter credit card number and expiration date of a credit card to verify your PayPal account. If you are still not ready or do not have a credit card, please click the " I'll do it later ".
6. Next you will see several options as shown below and click " Open Your Account " at the bottom.
7. Open the email you used to sign up for a PayPal account, you will receive an email that contains a link to activate your PayPal account. Click the button labeled Yes, this is my email .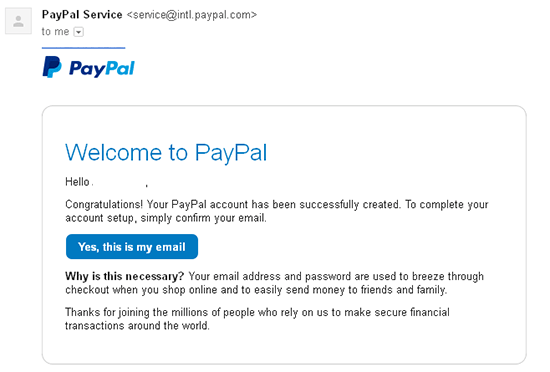 8. Please enter your PayPal account password you have entered in step three.
9. You have now already have a PayPal account, you can log into your account via the Login button at the top right of the email address and password. And here is the view of the page PayPal account.
When you sign into your PayPal account, you'll see posts unverified or unverified, With the status you still can use to accept money and do widraw, but there are limits or restrictions, in addition, there are some parties who are not able to receive payments if Accounts you have not been fully verified. My advice is better to verify in advance with a credit card or by purchasing VCC many you can find on Google, such as the forum or forums kaskus facebook with VCC are fairly cheap price.
The above is a complete description of PayPal and steps to create or register a paypal account, I hope this tutorial helps you who want to open a PayPal account. Good luck 🙂